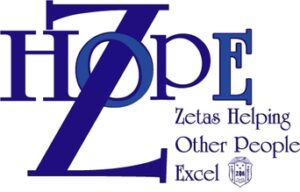 Z-HOPE Recognition and Awards
It is time again to ready yourselves for the 2023 Maryland State Leadership Conference Z-HOPE™ Awards and Recognition Program.
Graduate chapters, Undergraduate chapters, Zeta Amicae Auxiliaries, and Zeta Youth Groups will be considered for the following awards: Pearl Service Award, Sapphire Service Award, and/or Silver Service Award based on verified programs via the Zeta Service Management System (ZSMS). Z-Excellence Awards are available to Chapters and Zeta Amicae Auxiliaries based on submission of chapter/auxiliary statements.
Please click on the links below for detailed information. Email submissions to Z-HOPE@zphibmaryland.org no later than 11:50 PM on February 18, 2023.
2023 MSLC Z-HOPE Initiative: Putting It All On The Line
Chapters in the State of Maryland will come together to address the #1 safety justice, domestic violence. The Putting It All On The Line initiative will provide an array of options to fully engage in domestic violence awareness, education, and support work in the months leading up to the State Conference and within the scope of Z-HOPETM. The initiative culminates with a Clothesline Project Display during conference weekend.
Please click on the graphic below for detailed information.