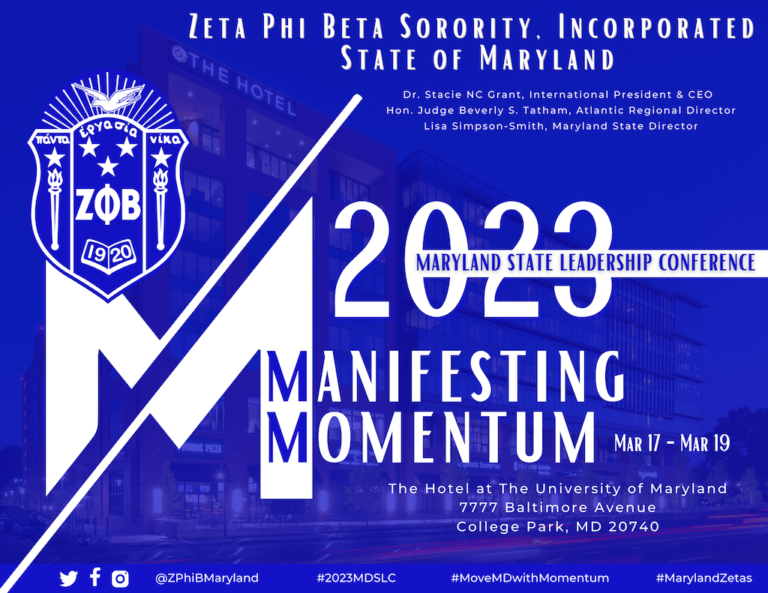 On March 17-18, 2023, Zeta Phi Beta Sorority, Incorporated – State of Maryland will host its annual leadership conference at The Hotel at the University of Maryland, College Park, MD. Please mark your calendar and save the date as we extend an invitation to you to be one of our featured vendors.
During the conference, vendors will be given the opportunity to showcase and sell their wares/goods. Those selling merchandise bearing the trademarked symbols and/or the name of Zeta Phi Beta Sorority, Incorporated and any of its auxiliaries must provide a copy of a valid vendor license issued by Zeta Phi Beta's International Headquarters.
Below is the vendor fee and registration information:
The vendor table fee is $300.00 for 1 table. An additional table may be purchased for $100.00.
There are eight (8) vendor tables available for the conference.
Once paid, your participation will be advertised in advance through our conference materials/platforms, listserve, and social media outlets.
Vendor registration will close on Friday, Feburary 10, 2023, or when the maximum number of verified vendors has been reached. Vendor fees are not refundable or transferrable.
We look forward to seeing you at the 2023 Maryland State Leadership Conference. If you have any questions, please contact me at marylandvendors11@gmail.com.
Thank you for supporting Zeta Phi Beta Sorority, Inc. and the communities we serve.