25th International President
Valerie Hollingsworth Baker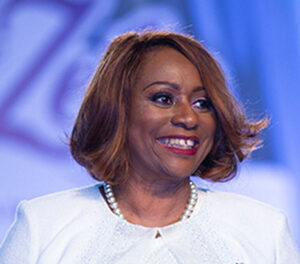 Valerie Hollingsworth Baker was elected as the 25th International President of Zeta Phi Beta Sorority, Incorporated in July 2018. Previously, she served as the National First Vice-President overseeing the sorority's membership functions.
Valerie is a Diamond Life Member who has shown her dedication to Zeta since her induction in 1982, and has held numerous positions on the local, state, regional, and national levels of the organization, including the Atlantic Regional Director, Chairman of the National Executive Board and National Director of Strategic Planning. She was a member of the originating Zeta Organizational Leadership committee.
Scholarship is a principle that Valerie holds in high regard having graduated from York Institute as the class valedictorian at the age of fourteen, and being accepted into ten of the nation's top universities. At the age of eighteen, she received a Bachelor of Arts degree from Fordham University where she majored in child psychology with a minor in theater and drama.
The Brooklyn, New York native is the Director of the Inforce Systems Division for New York Life Insurance Company in New York City, responsible for managing multi-million-dollar projects and programs, training personnel, and overseeing new product development as the chief administrator of one the company's major subsystems. She has been recognized in the International "Who's Who of Information and Technology" and "Outstanding Women of America" publications.
Valerie is an active member of Delta Mu Zeta chapter in Harlem, and resides in Brooklyn with her soul mate and best friend Douglas Baker. These words shared by her mentor Founder Fannie Pettie Watts are a daily driving force for Valerie – "Be the best you can be, do the best that you can, give the best of yourself, and you will go far." She hopes Founder Watts is looking down on her with a smile from above, because she is proud of her accomplishments.