17th Atlantic Regional Director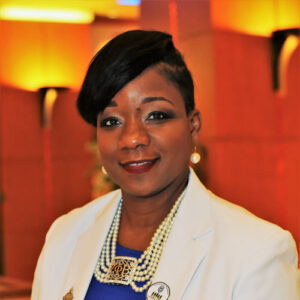 The 17th Atlantic Regional Director was initiated into Mu Eta chapter at Pennsylvania State University in 1987. Gina was initiated into Mu Eta chapter at Pennsylvania State University in 1987. She currently is an active member of Xi Tau Zeta chapter in Atlantic City, New Jersey, and is a Diamond Life Member and Founders' Society Member. She has served the sorority in several capacities, including her most recent service as the sorority's first National Director of Risk Management. In that role, she drafted the first Risk Management Policies for the sorority and Amicae auxiliary, created the risk training program, and is now charged with creating the Risk Management Certification process. She also served as a member of the Zeta Organizational Leadership (ZOL) Steering Committee, the 13th New Jersey State Director, and previously was the parliamentarian for the Atlantic Region and the State of New Jersey.
A graduate of the Pennsylvania State University and Howard University School of Law, professionally, Gina is an attorney and corporate governance professional. Her areas of expertise include the protection of information, corporate compliance and ethics, regulatory compliance, and Board processes.
She is admitted to practice before the United States Supreme Court, the United States District Court for the District of New Jersey, the Supreme Court of New Jersey, and the Supreme Court of Pennsylvania. Gina is a member of the Society for Corporate Governance and the former chair of the Diversity Task Force, and board and finance committee member of the AtlantiCare Regional Health System.